Exploring the beautiful city of Busan (GukJe Market, Gamcheon Culture Village, Taejongdae Park)
Most visitors to Korea mainly visit Seoul as it is Korea's capital and most famous city but Busan is really a city that you should visit. Don't miss out on Busan because it is Korea's greatest travel destinations, boasting great beaches, unique attractions and a lot of amazing food!
---
WHEN IS THE BEST TIME TO GO TO BUSAN?
Busan is on the coast and near the ocean with great beaches so late spring and summer (from now on is the best season!)
---
WAYS TO GET TO BUSAN
There are a few ways to get to Busan and we definitely recommend taking the train as the train is scenic, fast and also very convenient.
It departs from central Seoul and arrives at Busan Station which is also in central Busan.
1. KTX train
KTX is the original bullet train in Korea. It departs from Seoul Station/ Yongsan Station and it takes 2.5 to 3 hours. Recommend if you close to central Seoul
2. SRT train (Super rapid train)
The SRT are the newest bullet trains in Korea and departs from Suseo Station. Recommend if you stay in Gangnam (South of Seoul)
What is special about SRT?
They are the newest trains – opened December 2016
Also called second generation of KTX, they can reach a top speed of 330 km/h. However, on the current tracks they are limited to 300km/h.
The seats are more spacious than in KTX trains and each seat has power outlets for your smartphone or notebook.
The SRT trains share the same track as KTX for the most part but has a fully underground part that is newly built in Seoul : For the first 50 km from Suseo the train travels completely underground. The 52.3 km rail tunnel is the third longest tunnel in the world.
Cheaper and faster than KTX ; only take 2.5 hours! it is cheaper because the journey is shorter.
Both KTX and SRT depart every 1 hour on average so it's easy to have into the schedule. You can book directly on their official websites or ask us to include when you do custom tours!
3. By Air
Alternatively there are flights that go to Busan from Seoul Gimpo airport that only takes around 1 hour but Busan Gimhae airport is out of the way in Busan quite far from main attractions and you also have to check in at airports so might take around the same time as taking the bullet trains!
---
Where to stay in Busan?
In Busan there are bascially
Seomyun : For shopping and close to downtown  (big exchange stop in Busan )
Haeundae : For Ocean , beach, parties
For the most convenience we recommend Seomyun because it is a big exchange stop in Busan and you can go to both the orange and green line (line to go to Haeunda) and it is close to the places we will introduce today!
Prices are also more reasonable than Haeundae
Today We will introduce course starting from the Busan station
ROUTE
Busan Station -> Gukje market -> Gamchon Cultural Village -> Taejongdae Park
1. Gukje Market
Location: very close to Busan Station : only 3 stations away!
Why is it called the Gukje market ?
How it started:
Following the Korean War, people from all over Korea were forced to go to Busan and to make a living and they started to sell all kinds of things so since the things sold were quite diverse it was called GUKJE MARKET (gukje meaning "international" in Korean)
Until these days the Gukje Market is one of Korea's largest markets, similar to Namdaemun market, there are stalls along alleyways and it connects to Bupyeong Market, Kkangtong Market, and Nampo shopping district.
How to get there
Take line 2 to Jagalchi station, leave exit 7 and follow the map OR take line 2 to Nampo-Dong station and leave exit 1
What's special about the market , What can you find there ?
The market offers many goods from souvenirs, electronics, clothing, fish, fruit and vegetables and many more! you might find everything you need there!
Gukje Market is very popular with Koreans and foreigners and is the place where many people come to get good deals and bargains.
The market is close to BIFF square, the main place for the Busan International Film Festival, the biggest film festival held each year in Korea. Along the way you can see lots of international stars hand prints there
Gukje Market is located near Yongdusan Park and you see some great views of Busan Tower at night.
What to eat there?
There is a unique eating scene there you will see the food stalls that are on the street where you sit at low seats and the ladies will make you the food ! see photo and you will see what kind of experience you will have!
They sell all kinds of foods like bibimbap, noodles, etc.. .
Opening Hours
The market usually opens early in the morning until late evening. Each shop sets their own hours.
The market is closed on the 1st and 3rd Sundays of every month.
2. Gamcheon Culture Village
How to get there
Around 30 mins from Busan Station.
What's special about it ?
Gamcheon Culture Village is one of the most popular attraction in the last few years
It is special because it has colourful houses built on a hill of the mountain in a staircase manner
There are many nicknames for the place":"Korea's Santorini." "Korea's Machu Picchu." "Lego Village."
In fact, it used to be a poor neighbourhood and changed by the government into an attraction
The many alleys and houses in the village are vibrantly decorated with mural art drawings and sculptures
There isn't a fee for entrance but we do recommend you can get a map at the entrance for 2000 won , to join the Visitation Stamp challenge which encourages you to go to all the places on the map and get the stamps to redeem Gamcheon Culture village postcards at the end! .
Viewing points
While you search for the stamps, you will come across many artwork which had it own name and concept.
The Little Prince and Desert fox observatory : Out of all observatory deck, the Little Prince and Desert Fox had the most visitors. Be PREPARED TO LINE UP LONG TO TAKE PHOTOS THERE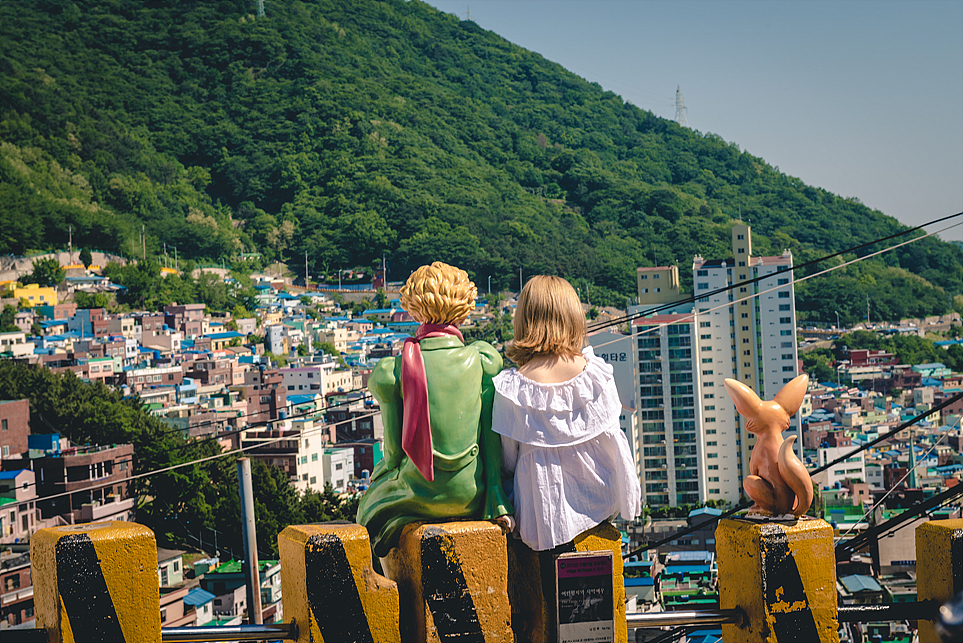 Photo from http://blog.naver.com/foot-print/220713019918
Visitor center observation deck at the rooftop. The observatory deck was the shooting place for Running Man episode 126 !
"Stairs to See Stars observatory": you need to take 148 steps to go up so it is quite a work out to go out so when you get dizzy you see "stars" – that's where the name comes from !
3. Taejongdae Park
One of the most famous places in Busan !
Taejongdae is definitely a must-see in Busan, and is especially famous for its rock beach.
How to get there?
Taejongdae is about 50-60 minutes bus rides from Nampo-dong Subway Station or Busan Subway Station.
One popular (and a much easier) way is to take the Danubi Train (다누비열차), which goes to 5 major destinations in the park. It cost KRW2,000 for an adult and KRW 1,000 for kids to board the train. The train goes to 5 major destinations within the park.
RECOMMENDED because : English/Chinese/Japanese and Korean broadcast service are provided along the way so visitors can easily follow the itinerary.
What's special about Taejongdae?
Taejongdae you can spend a good time to be relaxed and enjoy good views of the ocean in Busan
It is located in the southern part of Busan along the coast, expect to spend a full day exploring the sights
The History
Taejongdae's name came from the 29th king of the Silla Kingdom (57 BC-AD 935), King Taejong Mu-Yeol (604-661). King Taejong was fond of travelling and visited many place but he fancied this place the most ! He enjoyed archeries activities at Taejongdae
Taejongdae is also famous for the ritual of praying for rain, to prevent a drought. When there is rain on the 10th day of the fifth lunar month, it is called the "Taejong Rain"
When the days are clear, from Taejongdae's cliffs you can even see Tsushima Island which is in Japan!
What is there to see
1) Lighthouse
Under the lighthouse of this resort is a rock called Sinseon Rock, named after the myth that gods and goddesses came down here to relax.
At this rock is a figure called Mangbuseok, named after the story of a woman who waited for her husband who had been taken to Japan.
Make sure to take a photo with the cliff , looks like you are climbing! (very good to post to SNS!)
You can also enjoy some drinks at the cafe from the lighthouse!
2) Observatory
It is not essential but if you have time you can also stop by the observatory 자살바위(rock to commit suicide) 모자상 (mother & children statue)
it was called 자살바위 (rock to commit suicide)
when korea economy was not good after Korean war around 1950~1960's, people do commit suicide, so make the people think again for the mother's love not to do commit suicide and make a hope. so it was set up the statue on 1976)
3) Beach
There are some beaches in the park but they are more rocks than sands.
4) Seafood tents
Try some fresh caught seafood and they slice it up for you and eat there! Try the renovated shellfish tent for some good bbq clams and more!
it's a really good experience!
---
TODAY TIP
BUSAN – SRT & KTX is more convenient than taking a flight
Gamchon Cultural Village's map s a great way to explore the area
Go to Taejongdae in the afternoon to catch sunset
Gukje market is closed on the 1st and 3rd Sundays of every month.
Join to see Busan in a group tour!
Book your Busan 1 day shuttle tour package from the link below!
If you would like to make your own private tour or customize to include KTX, SRT bullet trains, other itinerary or hire private car, please email us at info@KoreaTravelEasy.com or click the link below!