1-Day Fun Tour to Gangneung, Gangwon-do – Gyeongpo, Bike, Zip Line & Coffee
Looking to explore a different side of Korea? Then don't miss out this 1-day hassle-free round trip to Gangneung, the largest coastal city in Gangwon-do, located at the eastern side of South Korea's longest mountain range near DongHae (East Sea).
Where is Gangneung?
Gangneung (강릉) is the largest coastal city in Gangwon Province, the east side of South Korea's longest mountain range, Taebaek, near the East Sea.
Gangneung is a relatively recent point of interest, made popular by the hit drama, "Goblin". For visitors who are looking to experience a short getaway from Seoul, look no further! While Gangneung is famous for holding the largest traditional festival still performs in Korea today – the Danoje Festival in May, Gangneung is without doubt a year-round spot to visit with its cultural hotspots and unrivalled natural sceneries.
How to Get to Gangneung?
OPTION 1:

Public transport- we don't recommend as you have either take the bus or train and exchange for bus. 

What we recommend: 
OPTION 2 : 1 day tour shuttle bus
This one day shuttle bus tour departs from Seoul downtown in Hongdae and Myeongdong and takes you to the 6 exciting places in Gangneung! Just sit back and relax and do not have to worry about transferring buses and finding public transportation!
---
TODAY'S COURSE

Gyeongpo Lake + Namhangjin Beach, Solbaram Bridge & Aranabi Zipline +
Anmok Beach & Coffee Street
LOCATION 1: GYEONGPOHO LAKE + BIKE TOUR

History of Gyeongpoho Lake
Literally means "clear as mirror", Gyeongpoho Lake is located 6km northeast of Gangneung and is also known as the "Gunjaho Lake". Gyeongpoho Lake is the setting of the tale of Hwarang and cultural relics from the prehistoric age, and on the Rock Island in the middle of the lake, there is a small pavilion which holds a hanging board called Joam, believed to be written by Song Si-Yeol.
A distinctively romantic spot, there is another tale that rises from this beautiful lake: "With the moon shining in the sky, it is reflected on the ocean, on the lake, in a glass of wine, and of course, two moons shining brightly in the eyes of someone falling in love."
What's So Special?
Memorable bike tour: Enjoy a romantic stroll along the lake or a delightful bike ride along the tree-lined paths offering you a peaceful escape from the conventional Seoul experience. And there are unique bicycle options ranging from single, double to even a quadruple option for you  to choose from too! Just check out the photos!
Perfect for all-season: While it is especially gorgeous in Spring as cherry blossom flourishes, you'll be able to enjoy Gyeongpo Lake's picturesque view all year round that is sure to be unforgettable for your short trip outside of Seoul.
---
LOCATION 2: NAMHANGJIN BEACH, SOLBARAM BRIDGE & ARANABI ZIPLINE
Photo credit: VisitKorea
A white sandy beach covering an area of 24,000㎡ and a length of 600m, there are two popular ways to get to Namhangjin Beach from Gangneung Port: By walking across or as we would recommend, zipline across the ocean and get to the beach in under 45 seconds!
What's So Special?
Aranabi Zipline Experience: For thrill seekers, definitely do not miss out the Aranabi Zipline experience! "Ara" means "ocean" and "nabi" means butterfly in Korean, riding the Aranabi zipline you can be like a butterfly flying over the ocean for 600m! The Aranabi Zipline offers a zipline consisting of a pulley suspended on a cable that is 12m in height. It is the only zipline in Korea that overlooks the beautiful ocean!

If you're not so much a daredevil but still love to try this unique zipline experience fret not – there's an option between single or double riders.
---
LOCATION 3: ANMOK BEACH & COFFEE STREET
Photo credit: VisitKorea
Officially crowned as the "City of Coffee", to the locals, coffee is not just a beverage, but an expression of "Gangneung-style" with its abundant artisan coffee shops for you to enjoy. There are as many as 300 cafes in Gangneung city alone and if you're a coffee fanatic, there is a special coffee road map for you to leisurely explore the city!
History of Coffee Street
Photo credit: VisitKorea
It all began with coffee experts arriving at Gangneung for its clean water and the rest is history as tourists are attracted by their high-grade beans and elaborately-made, hand drip coffee. Within little over a decade, Gangneung has become South Korea's coffee mecca.
One of the must-see events is the Gangnenung Coffee Festival, which is typically held in October lasting 3 days. Visitors will be able to immerse in a series of coffee related events ranging from barista performance to hands-on experience of coffee roasting and making the perfect cup of hand-drip coffee!
What's Special?
Specialty Cafe & Snacks: While you can easily enjoy a great cup of coffee by itself at the cafe, a must-try combination includes a cup of coffee with the popular "Yeontanbbang" (연탄빵), which is variously flavoured and coloured with white beans, squid ink, cheese or coffee.
"Hoetjip" (Raw Fish Restaurant): A visit to a beach side destination is never complete without indulging in some fresh raw fish! Right in front of the Anmok beach is Anmok Port, where around 23 fishing boats can be moored to unload their catch of seaweed in the spring; flatfish, squid, octopus in the summer; and sailfin sandfish, and pollack in the fall and winter.
---
LOCATION 4: 2018 PYEONGCHANG OLYMPICS HOUSE EXHIBITION
Fly under the slogan "Passion, Connected", the 23rd Olympic Winter PyeongChang 2018 will be held from 9 – 25th February 2018 in PyeongChang, Gangwon Province in the South Korea. While Alpine speed events will take place in Jeongseon, all 5 ice sports (Short Track Speed Skating, Speed Skating, Figure Skating, Ice Hockey & Curling) will be competed in the coastal city of Gangneung.
What's Special?
Photo credit: Pyeongchang 2018
Here's your chance to get a taste of the games to be held at the much anticipated PyeongChang 2018 Olympic Winter Games! Besides exhibition featuring 18 main winter sports, the state-of-the-art interactive PyeongChang House also features virtual reality devices for visitors to be a part of event by trying on the Korean national team's uniforms and hanbok (traditional Korean clothing) using augmented reality devices and you would also have a chance to experience a ski jumping with the virtual reality devices.
And that's not all!
PyeongChang House's outdoor stage features various performances on a daily basis, including K-pop, taekwondo, traditional Korean music, b-boying, and nonverbal performances.
Photo credit: Pyeongchang 2018
Interesting Facts
It is Korea's first Olympics games in 30 years after the Seoul Olympic Games in 1988.
There are two official mascots for PyeongChang 2018 Olympic Winter Games: White Tiger 'Soohorang' (수호랑) representing challenging spirit and passion and Asiatic Black Bear 'Bandabi' (반다비), representing strong willpower and courage.
The 12 venues — seven for sports on snow and five for events on ice — are all located within 30 minutes of each other.
---
TODAY'S TIP
To avoid traffic congestion, we recommend travelling to Gangneung during weekdays instead of weekends.
Dress comfortably for your shuttle bus transfer and wear pants for your zipline and bike adventure at Gangneung!
Don't forget to check out the promotional video of Gangneung! 
---
CLICK HERE NOW for an exciting day tour!
---
1-Day trip to experience the Korean Gangneung Danoje and Korea East sea to see Goblin famous shooting spot !
May is almost ending soon but near the end of the month there is a traditional Korean festival called the DANOJE –  in an interesting city of Korea called Gangneung.  It recently been a new area of interest due to the hit drama Goblin! Find out more about Gangneung from KoreaTravelEasy
Today's course :
Gangneung Danoje Festival  + Jungang Market +  Youngjin Beach (Goblin filming spot) + Sodol Adeulbawi Park
Where is Gangneung?
Gangneung (강릉) is the largest coastal city in Gangwon Province, the east side of South Korea's longest mountain range, Taebaek, near the East Sea.
How to get to Gangneung?
OPTION 1:

Public transport- we don't recommend as you have either take the bus or train and exchange for bus. 

What we recommend:
OPTION 2 : 1 day tour shuttle bus
This one day shuttle bus tour departs from Seoul downtown in Hongdae and Myeongdong and takes you to the 4 exciting places in Gangneung! Just sit back and relax and do not have to worry about transferring buses and finding public transportation!  The day tour will run daily during the Danoje festival from May 27th to June 3rd this year!
---
LOCATION1 : Gangneung Danoje (The Gangneung Danoje Festival)

Korea's annual Dano holiday (단오) is on May 5th of the lunar calendar each year ( Usually lands in May or June)  

The Gangneung Danoje has the longest history among Korean local festivals

It is still held now yearly at Gangneung and this year is it on May 27, 2017 –  June 3, 2017
History
Originally, all the rituals performed are to worship the  guardian spirit of a mountain which protects the town. the festival is a day for people to gather and wish for the following year with abundant harvest and good health. (as back in the days farming was a big thing)

It was roughly started in the 1600s and continued till today because people in town believed there will be a disaster if they do not pay respects to the mountain spirits.  
The Gangneung Danoje festival is chosen as Korea's Masterpieces of Intangible Cultural Heritage of Humanity by UNESCO in  2005. 
Events at the Danoje festival  – what is there to do?
At the festival, you can enjoy cultural events, folk games and performances.
Here are some highlights of this things you can see there!
Danogut
Danogut is performed by Gangneung's most well-known female shaman, who prays for the health and happiness of all the people at the festival.  The shaman speaks to the spirits, in forms of dance and chants.
Gwanno Mask Play
The Gwanno Mask play is one of the special highlights as it can only be seen at the Gangneung Danoje Festival. It is a non-verbal traditional Korean mask drama (without words using only dance and body movements)  where the lower class servants (nobi) wear masks of the upper class nobles (yangban). The play tells the story between an upper class nobleman, a young Shaman and the forces that interfere with their love
Folk Games
There are traditional Korean folk games for you to participate too!
Photo: From VisitSeoul.net
Ssireum is a traditional Korean wrestling for men. The wrestlers grab onto each other's satba (a piece of cloth wrapped around the waist and legs) and whoever gets the opponent on the ground first wins the game. Gangneung locals and festival goest are able to participate in tournaments to compete
 Photo: From VisitSeoul.net
Geune(Swing) is a traditional Korean swing game where girls stand on the swing board hung on a tree and tries to swing the highest to win. The Geune contest is the most popular folk games enjoyed by women during the Danoje Festival.
Experience Traditional Dano customs
For those who are more hands on, at the festival you can also experience what Koreans do for the Dano holiday:  you can make surichi-tteok (rice cakes made with a Korean herb), try to drink the sinju liquor (liquor made a month before Dano to offer to the gods),  washing your hair in Iris(ChangPo) water to smooth hair and block off bad fortunes, decorate your own Korean traditional fan and much more!
You definitely have lots of things to experience at the festival !
Drawing on a Dano Fan (left) / Washing hair with sweet flag-infused water (right)
Sintongdae-gil Traditional Parade
A good festival in Korean definitely can't be without a parade!
The Sintongdaegil traditional parade is to celebrate the beginning of the Dano festival and it is the most popular event not to be missed at the festival! It is only held once per year so make sure to check which day it is on ! (Usually on the 1st or 2nd day, this year is it on May 28th)
Over 5000 lanterns light the parade path and people will also carry lanterns to follow the performers.  Gangneung people will make alcohol and tteok (떡, rice cakes) from the rice offerings to the gods, and share with those who participate at the parade. It is said that those who eat the rice cakes and drink the alcohol will remain healthy for the rest of the year!
---
LOCATION 2: Gangneung Jung-ang Market(central market)
What's special about the market?
There are several market places in Gangneung. Gangneung Jung Ang Market has the longest history, the current building was refurbished in 2004

Also it is located at the center of the city and is the largest one in the area.  
It is a typical Korean market selling all sorts of foods and other goods


What is there to eat special in Gangneung?
Coffee,  Gangneung Tofu stew (초당두부), Korean fried chicken in sweet and spicy sauce (  닭강정) are things not to be missed in Gangneung's Jungang market!
---
LOCATION 3: Youngjin Beach- Drama "Goblin" filming spot
Located in Gang-won at Jumunjin, Youngjin Beach was part of the iconic scene in Goblin: The Lonely and Great God. Known for its gorgeous beaches and blue waters, Youngjin Beach offers visitors breathtaking views of the ocean and you can recall about the drama 's famous scene here!
What is the drama GOBLIN?
For those who did not watch,Dokkaebi or Goblin (also known as Guardian: The Lonely and Great God) is one of the hit dramas aired by tvN in 2016-2017. It was written by the famous writer Kim Eun Sook ( Descendents of the Sun, Secret Garden, etc…)  and it starred A-list actors  Gong Yoo, Kim Go Eun, Lee Dong Wook and Yoo In Na.
The drama was an instant hit and due to its huge popularity, tourists are interested to visit the filming spots of the drama: one of the them being right here in Gangneung!
What scene was it?
Episode 1 where Eun-tak (Kim Go Eun) first summoned Dokkaebi (Gong Yoo) by blowing out her candles, and suddenly he's standing there by the sea with her, asking if she's the one who called him there and they exchange one of their first heart-to-heart conversations.
Why this places is nice?

That rocky pier that both of them stood on is called Jumunjin Breakwater. It was built to protect the coastline from the effects of erosion and longshore drift.

The beach is known for being a great place for family outing due to its shallow water.
How to enjoy?
After its appearance in this popular drama, a lot of fans visited this place just to take photos and re-enact the famous drama scene (be prepared for LONG LINE UPS!) . On some days there are rental service available to rent a buckwheat flower bouquet and a red scarf .
---
LOCATION 4:Sodol Adeulbawi Park

It is located near Youngjin beach, you will be impressed by the stunning view of ocean view and rocks of fantastic shape here at Sodol Adeulbawi Park. Sodol means "bull" and Adeulbawi means " Son's rock" it comes from the below legend
There is a legend that a childless old couple came to the rock to pray for 100 days and got a child after therefore this is a popular place for newlywed couples to come to wish for a child

The main rock in the place, the Sodol Rock was formed 150 Million years ago in the Jurassic area. You can see rocks and strangely bizarre rocks naturally carved in by the wind and waves in shapes of  bull, etc…
---
TODAY TIP
Make sure to visit Danoje festival during May 27- June 3! Book the day tour with KoreaTravelEasy ~ it is ⅓ of the price of the regular Gangneung tour!

Bring a red scarf  and  man to be your Goblin if you are a woman  … o

r – Bring a bouquet and a woman to be your Goblin's wife if you are a man! 😛
---
JOIN HERE for exciting day tour!
OR if you miss the dates for Danoje you can still join the regular Gangneung 1-day tour!
---
Exploring the beautiful city of Busan (GukJe Market, Gamcheon Culture Village, Taejongdae Park)
Most visitors to Korea mainly visit Seoul as it is Korea's capital and most famous city but Busan is really a city that you should visit. Don't miss out on Busan because it is Korea's greatest travel destinations, boasting great beaches, unique attractions and a lot of amazing food!
---
WHEN IS THE BEST TIME TO GO TO BUSAN?
Busan is on the coast and near the ocean with great beaches so late spring and summer (from now on is the best season!)
---
WAYS TO GET TO BUSAN
There are a few ways to get to Busan and we definitely recommend taking the train as the train is scenic, fast and also very convenient.
It departs from central Seoul and arrives at Busan Station which is also in central Busan.
1. KTX train
KTX is the original bullet train in Korea. It departs from Seoul Station/ Yongsan Station and it takes 2.5 to 3 hours. Recommend if you close to central Seoul
2. SRT train (Super rapid train)
The SRT are the newest bullet trains in Korea and departs from Suseo Station. Recommend if you stay in Gangnam (South of Seoul)
What is special about SRT?
They are the newest trains – opened December 2016
Also called second generation of KTX, they can reach a top speed of 330 km/h. However, on the current tracks they are limited to 300km/h.
The seats are more spacious than in KTX trains and each seat has power outlets for your smartphone or notebook.
The SRT trains share the same track as KTX for the most part but has a fully underground part that is newly built in Seoul : For the first 50 km from Suseo the train travels completely underground. The 52.3 km rail tunnel is the third longest tunnel in the world.
Cheaper and faster than KTX ; only take 2.5 hours! it is cheaper because the journey is shorter.
Both KTX and SRT depart every 1 hour on average so it's easy to have into the schedule. You can book directly on their official websites or ask us to include when you do custom tours!
3. By Air
Alternatively there are flights that go to Busan from Seoul Gimpo airport that only takes around 1 hour but Busan Gimhae airport is out of the way in Busan quite far from main attractions and you also have to check in at airports so might take around the same time as taking the bullet trains!
---
Where to stay in Busan?
In Busan there are bascially
Seomyun : For shopping and close to downtown  (big exchange stop in Busan )
Haeundae : For Ocean , beach, parties
For the most convenience we recommend Seomyun because it is a big exchange stop in Busan and you can go to both the orange and green line (line to go to Haeunda) and it is close to the places we will introduce today!
Prices are also more reasonable than Haeundae
Today We will introduce course starting from the Busan station
ROUTE
Busan Station -> Gukje market -> Gamchon Cultural Village -> Taejongdae Park
1. Gukje Market
Location: very close to Busan Station : only 3 stations away!
Why is it called the Gukje market ?
How it started:
Following the Korean War, people from all over Korea were forced to go to Busan and to make a living and they started to sell all kinds of things so since the things sold were quite diverse it was called GUKJE MARKET (gukje meaning "international" in Korean)
Until these days the Gukje Market is one of Korea's largest markets, similar to Namdaemun market, there are stalls along alleyways and it connects to Bupyeong Market, Kkangtong Market, and Nampo shopping district.
How to get there
Take line 2 to Jagalchi station, leave exit 7 and follow the map OR take line 2 to Nampo-Dong station and leave exit 1
What's special about the market , What can you find there ?
The market offers many goods from souvenirs, electronics, clothing, fish, fruit and vegetables and many more! you might find everything you need there!
Gukje Market is very popular with Koreans and foreigners and is the place where many people come to get good deals and bargains.
The market is close to BIFF square, the main place for the Busan International Film Festival, the biggest film festival held each year in Korea. Along the way you can see lots of international stars hand prints there
Gukje Market is located near Yongdusan Park and you see some great views of Busan Tower at night.
What to eat there?
There is a unique eating scene there you will see the food stalls that are on the street where you sit at low seats and the ladies will make you the food ! see photo and you will see what kind of experience you will have!
They sell all kinds of foods like bibimbap, noodles, etc.. .
Opening Hours
The market usually opens early in the morning until late evening. Each shop sets their own hours.
The market is closed on the 1st and 3rd Sundays of every month.
2. Gamcheon Culture Village
How to get there
Around 30 mins from Busan Station.
What's special about it ?
Gamcheon Culture Village is one of the most popular attraction in the last few years
It is special because it has colourful houses built on a hill of the mountain in a staircase manner
There are many nicknames for the place":"Korea's Santorini." "Korea's Machu Picchu." "Lego Village."
In fact, it used to be a poor neighbourhood and changed by the government into an attraction
The many alleys and houses in the village are vibrantly decorated with mural art drawings and sculptures
There isn't a fee for entrance but we do recommend you can get a map at the entrance for 2000 won , to join the Visitation Stamp challenge which encourages you to go to all the places on the map and get the stamps to redeem Gamcheon Culture village postcards at the end! .
Viewing points
While you search for the stamps, you will come across many artwork which had it own name and concept.
The Little Prince and Desert fox observatory : Out of all observatory deck, the Little Prince and Desert Fox had the most visitors. Be PREPARED TO LINE UP LONG TO TAKE PHOTOS THERE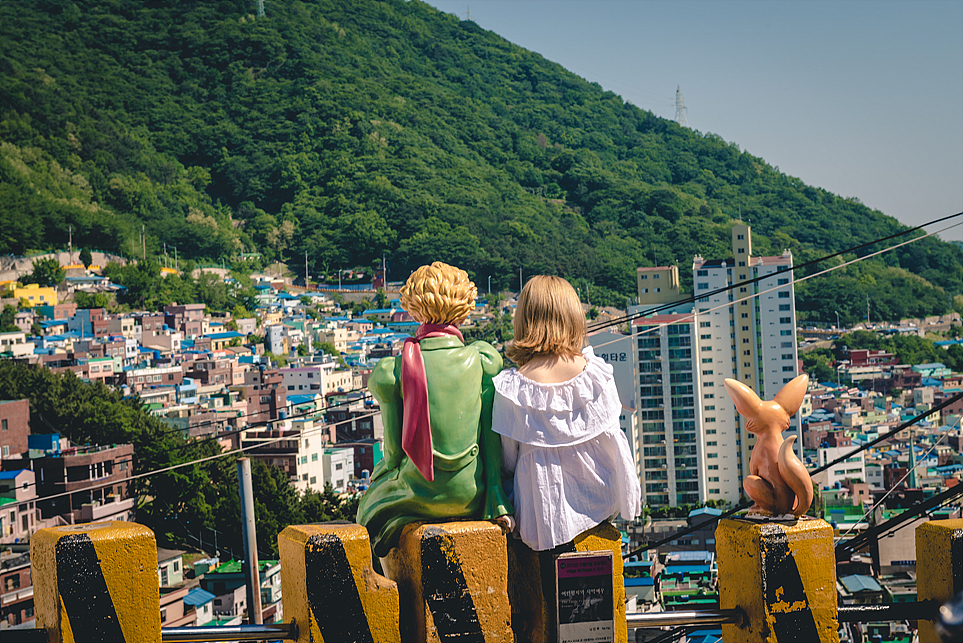 Photo from http://blog.naver.com/foot-print/220713019918
Visitor center observation deck at the rooftop. The observatory deck was the shooting place for Running Man episode 126 !
"Stairs to See Stars observatory": you need to take 148 steps to go up so it is quite a work out to go out so when you get dizzy you see "stars" – that's where the name comes from !
3. Taejongdae Park
One of the most famous places in Busan !
Taejongdae is definitely a must-see in Busan, and is especially famous for its rock beach.
How to get there?
Taejongdae is about 50-60 minutes bus rides from Nampo-dong Subway Station or Busan Subway Station.
One popular (and a much easier) way is to take the Danubi Train (다누비열차), which goes to 5 major destinations in the park. It cost KRW2,000 for an adult and KRW 1,000 for kids to board the train. The train goes to 5 major destinations within the park.
RECOMMENDED because : English/Chinese/Japanese and Korean broadcast service are provided along the way so visitors can easily follow the itinerary.
What's special about Taejongdae?
Taejongdae you can spend a good time to be relaxed and enjoy good views of the ocean in Busan
It is located in the southern part of Busan along the coast, expect to spend a full day exploring the sights
The History
Taejongdae's name came from the 29th king of the Silla Kingdom (57 BC-AD 935), King Taejong Mu-Yeol (604-661). King Taejong was fond of travelling and visited many place but he fancied this place the most ! He enjoyed archeries activities at Taejongdae
Taejongdae is also famous for the ritual of praying for rain, to prevent a drought. When there is rain on the 10th day of the fifth lunar month, it is called the "Taejong Rain"
When the days are clear, from Taejongdae's cliffs you can even see Tsushima Island which is in Japan!
What is there to see
1) Lighthouse
Under the lighthouse of this resort is a rock called Sinseon Rock, named after the myth that gods and goddesses came down here to relax.
At this rock is a figure called Mangbuseok, named after the story of a woman who waited for her husband who had been taken to Japan.
Make sure to take a photo with the cliff , looks like you are climbing! (very good to post to SNS!)
You can also enjoy some drinks at the cafe from the lighthouse!
2) Observatory
It is not essential but if you have time you can also stop by the observatory 자살바위(rock to commit suicide) 모자상 (mother & children statue)
it was called 자살바위 (rock to commit suicide)
when korea economy was not good after Korean war around 1950~1960's, people do commit suicide, so make the people think again for the mother's love not to do commit suicide and make a hope. so it was set up the statue on 1976)
3) Beach
There are some beaches in the park but they are more rocks than sands.
4) Seafood tents
Try some fresh caught seafood and they slice it up for you and eat there! Try the renovated shellfish tent for some good bbq clams and more!
it's a really good experience!
---
TODAY TIP
BUSAN – SRT & KTX is more convenient than taking a flight
Gamchon Cultural Village's map s a great way to explore the area
Go to Taejongdae in the afternoon to catch sunset
Gukje market is closed on the 1st and 3rd Sundays of every month.
Join to see Busan in a group tour!
Book your Busan 1 day shuttle tour package from the link below!
If you would like to make your own private tour or customize to include KTX, SRT bullet trains, other itinerary or hire private car, please email us at info@KoreaTravelEasy.com or click the link below!  
---
Your guide and reviews of the best Korean Non-verbal shows!
We have been to places to sightsee in the city of Seoul during the day time, such as Gyeongbokgung, Deoksugung, City Hall, Hongdae, and today we will introduce some other activities where you can relax and watch shows in the late afternoon and evening ! Just like when you go to New York, it should be in your travel schedule to watch a representative show in Korea to leave good memories !
In Korea there are a lot of local and Korean art, music and culture events available but many foreigners might find enjoying some culture events in Korea can be limiting if you don't speak other Korean language. It's not such an easy language to pick up without learning it.
So what shows to watch if you don't know Korean?
Actually before you pick up the language skills, there are some unique and fun some stage shows that are both made in Korea and that has distinctive Korean dance, culture, martial art 

and most of all – Non-verbal:  which means that they do not require any Korean language skills to enjoy.
What are non-verbal shows?
At non-verbal shows, usually there is more than just watching actors and dancers performing on stage, the audience get to be engaged directly sometimes to get excited through games, cheering together or following the beats and actions of the performers.

Guarenteed a fun time to spend for a special memory in Korea!
Let us introduce to you today 7 nonverbal shows that you should watch. They are in a special promotion to be promoted under the Korean Tourism Organization (KTO) for free and easy travelers to Korea. You will be able to enjoy a different show every day of the week at a discount for the 2 month promotional period. Many of the shows have toured the world and are famous worldwide !
---
Why we recommend?
REASON 1:  can enjoy by location
The theatres are located at locations near main tourist attractions so we have mapped it out for you so you can enjoy the city in the day time and end the day with a different exciting show every day of the week!  

The show times run around 1 hour 10- 1 hour 20 mins so great for a show that is fun and doesn't run too long so you can do more in Seoul!
REASON 2:  during limited time – discounted price and free AREX ticket
Get a free one-way AREX ticket for every show you watch so you can redeem for your airport transfer!

Promotional Dates:   May 8- July 9 ( special for 2 months)

Watch famous shows for discounted price!
So, Today route would be separated in a few routes
---
In Seoul : Near City Hall, Deoksugung, Myeongdong, Namdaemun,
What to do in this area?
Where Modern meets traditional: Shopping, Traditional market, palaces, refer to our Deoksugung post
1. Fireman:  TUESDAY   8:00pm
Place : Cecil Theater (City hall station)

Show time: 1hr. 20min

Review:

Go through together with the training involved in becoming a fireman during a comedic performance of the Fireman Show

The show uses a mixture of performance styles to express the demands of being a fireman 

Witness impressive acrobatic lifts and flips .Learn about the importance of fire safety and awareness throughout the show

The Fireman Show is the latest show in Seoul showcasing the strength, tough training and dedicated work of a fireman! Follow the story of a group of trainees who struggle to get through their strenuous and high intensity training in order to become skillful firemen. Watch in awe as the performers dance, do acrobatic lifts, flips and other cool moves. There are fun light effects while you can enjoy this unique and funny show. By the end of the show you will have a new perspective of the fun and excitement involved in a fireman trainee's day to day life on the field.
We recommend :
If you are going to around area of city hall

If you are interested in daily heros and a story about their heroic acts of Firemen

This show does not have pre-assigned seating so if you go early you can get a good seat!
2. Lotus (A flower comes out once more) – Sat – 4:00pm, 8:00pm
Place : Jeongdong Theater

Show time: 1 hour 20mins.  

Review :

Lotus tells the story of Seo-ryeon, the best dancer in the royal court. When her performance charms the king during a festival, the envious queen turns her out of the palace. Dodam, a court general and Seo-ryeon's love interest, follows her. They are pursued by the king's forces
We recommend:
Right in front of city hall and Deoksugung so on the weekend when you stay in Seoul city since Seoul vicinity traffic jam is bad you can stay within the leisure of being in the city and choose the show either in the afternoon or evening on Saturday

This show showcases Korea's traditional dance and the scale is large as there are a lot of performers on the stage which will astonish you.

If you like a more intimate and interactive show then this is not for you
3.  Fantastick – Sunday – 5:00pm, 8:00pm
Place : NH Art Hall (connected Seodaemun Station)

Show time :1 hour 20 min.

Review:

Incorporating western style percussion with melodies played on traditional Korean musical instruments, this non-verbal performance brings to life a classic Korean love story with a modern twist. Fanta-stick is an innovative combination of break­dancing, acrobatics, martial arts, with traditional Korean percussion and string music.
We recommend
If you are at Deoksugung or Jeondong street, or on the purple line (line 5) it is close to Gwanghwamun

This show is shown on Sunday so we you can avoid the crowds from the office buildings and enjoy this show when it is quiet in the area. It is also shows for 2 times in a day

Compared to Lotus,  Fantastick does not have that big of a cast (around 6-7 people)  but it still showcases Korean Gukak which is Korean traditional music usual Korean traditional instruments (flute, drums, strings, etc..)  The small casts is very talented indeed and will also have fun interactive games with the audience

However, the story of the show was only told in English but since the story is quite simple (star-crossed lovers story ) so you will be able to get it along the way
---
In Seoul : Near Jongro
What to do in this area?
Traditional Seoul: Gyeongbokgung, Changdeokgung, Insadong, Bukchon Hanok Village
4. CHEF – the next generation of BIBAP!  – Wed – 5:00pm, 8:00pm
Place : Cinecore Theater Bibap Hall

Show time : 1 hour 15 min.

Review:

Get ready for a fun night of beatboxing, b-boying, and bibimbap! The latest update to the popular BIBAP show is here! CHEF promises audiences a wonderful journey into the kitchen with a non-verbal performance that anyone can understand! Audience participation is encouraged and there is plenty of comedy throughout the show. There are 5 parts to the show that explore different storylines in the kitchen, all expressed through music and dance! K-Pop fans of all ages will love this show!
We recommend:  
If you are close to Jongno district on a Wednesday afternoon or evening  

Bimbap has more interaction with audience. Funny show with talented crew. Very talented in B-Box and street dancing

Talks about making a fun time while cooking

Music is modern and using Kpop elements.
---
In Seoul : Near Euljiro- 3-ga / Chungmuro  / Myeongdong/ Dongdaemun
What to do in this area?
Shopping and food mecca: Shopping, restaurants until late night!
5. Jump –  Friday – 5:00pm, 8:00pm
Place : Musical Jump Theater

Show time : 1 hour 20 mins ,  

Review:

Since first hitting the stage in 2003, this high energy martial arts comedy show has impressed audiences in Korea and on international stages including the Edinburgh Fringe Festival, London's west end and New York's off-Broadway!
We recommend if:
if you are in the Euljiro/Myeongdong area on Friday afternoons or nights!

There are many big Korean companies nearby so after the show you can also experience what white collars in Korea do after work on happy Friday! Gatherings, dinner parties, etc..

Jump is focused on a funny story with martial arts and the actors are really talented! They can perform all kinds of stunts on such a small stage and connect well to the audience

It is a funny show that is liked by all ages so can even bring young children to go! – Jump is famous overseas and has been on tours worldwide and it is much more expensive to watch in other countries to take advantage of being in Korea to watch this representative Korean show!
---
In Seoul : Near Hongdae / Hongik University/ Sinchon/ Ehwa Womens' university  Area
What to do in this area?
Young and hip Seoul university area
6.  Nanta -Thursday – 8:00pm
Place : Hongdae Nanta Theater

Show time : 1 hour 30 mins 

Review: This is Korea's longest running show in a theatre, definitely one of the best known non-verbal shows!

Nanta is a show blending acrobatics, martial arts, music and culinary skills – that's got to be a unique combination! The talented troupe of Korean performers cook up a storm in the on-stage kitchen giving the audience a taste of Korean culinary lunacy, sliced and diced to percussive perfection. Nanta combines the rhythms from Korean folk songs with modern music, creating a non-verbal performance that's accessible to an international audience. Spectators are even encouraged on stage – you could be the bride or groom at a traditional wedding ceremony, or compete in a dumpling-piling competition
We recommend:
If you are in Hongdae area on a Thursday night to enjoy a show and then can go to the nightlife area with lots of youngsters  

Nanta at this special price is really a steal because usually it's much more expensive and even more overseas!

However, due to the popularity of Nanta, the special price will only get tickets to A section which is the 2nd floor in the back part so if you are looking to watch Nanta from upclose, KoreaTravelEasy also sells discounted tickets for other sections of the theatre!
---
In Gyeongju
7. Shilla: Monday – 7:30 pm
Place : Gyeongju Culture expo Culture Center (Gyeongju)

Show time: 1 hour 10 mins,  

The story depicts the collision and harmonization of the three different cultures of Persia, Silla, and Arab.
We recommend :
you are in Gyeongju to visit on a Monday.

Gyeongju is a city on South Korea's southeast coast. It was the capital of the 1,000-year-long Silla dynasty, and is known for its extensive historical remains. So that's why the show has a lot of historical components

We haven't been but if you are in the area you should visit!
---
*** TODAY TIP
Choose your show accordingly depending on where you will go that day ! Match your days with the area and the shows!

Special limited time discount tickets from May 8-July 9  for 2 months only. Each ticket is only USD18 and will include 1 ticket for the Express Arex train (9 USD value!)

If you like the shows but the dates and times don't match you can still buy the tickets with other discounts through KoreaTravelEasy  
BOOK YOUR DISCOUNTED SHOWS HERE 
Looking for other similar choices?
Discount tickets for JUMP show
Discount tickets for FIREMAN show
Discount tickets for NANTA (Myeongdong) show
---
SPRING FESTIVAL SPECIAL: Taean Tulip festival and the West Sea area
South Korea is a very beautiful country in spring.  The trees are starting to change colours back to being green but trees are not the only things in Korea that are beautiful in spring

What is most popular about Korean spring are the flowers.

Korea has a lot of flower festivals, such as Cherry Blossom Festivals, Canola(유채꽃) Flower Festivals, Apricot(살구) Blossom Festivals, and many more Spring Flower Festivals.
Today we will introduce to a place called Taean County  in

South Chungcheong

Do, South Korea, where the yearly Taean international tulip festival is held .
---
Where  is Taean Tulip Festival?
Taean is situated around 3 hours from Seoul one way and it may seem far but and it's doable in a day trip , the Taean Tulip Festival is held at the town of Nam-myeon, in Taean County.

Only available each year Mid -april to Mid- May for 1 month ! this year is it from April 13- May 10
---
How to get there ?
OPTION 1:
By public transport :  
From Dong Seoul Bus Terminal or Express Bus Terminal, take an intercity bus to Taean. ( around 2.5 hours)

From Taean Intercity Bus Terminal, take a village bus bound for Gomseom 곰섬 and get off at Morenon Bus Stop. (Estimated travel time: about 1-hour)
Public transport can be quite confusing as you need to buy the tickets when you get there and math the times
OPTION 2:  
Join group day shuttle that departs from Seoul city in the morning and takes you to the Tulip festival and will also go to strawberry picking !  

https://www.koreatraveleasy.com/product/taean-tulip-festival-and-strawberry-farm-picking-1-day-tour-shuttle-package/
OPTION 3: PRIVATE CAR
Private car option is available and most recommended if you have 4 or more people! Write us a request in PRIVATE CUSTOM TOUR!
If you go by private car you can stop by the famous highway pit stop HANG-DAMDO ISLAND OCEAN RESORT (they call it "service area") that overlooks the ocean, on the way to WEST SEA (Seohae) Highway
Like in other countries, pit stops are for a bathroom break, and most important FOOD /SNACKS break! There is a selection of Korean local snacks and also coffee/ franchise, etc…
It is one of the fun places that local Koreans must visit when going on lots of yummy Korean snacks and it's highly recommended to stop by there!
---
What's special about the festival?
General Information
The Taean Tulip festival is also known as the Taean World Tulip Summit

It is one of the world's TOP 5 tulip festivals in the world with more than 1.5 million tulips planted on display
It is a rare opportunity to see so many varieties of tulips gathered at one place .
Usually blossoming times of the different kind of tulips vary but, special techniques were introduced from the Netherlands, where tulips originated and allowed the blossoming times to be controlled so that the festival-goers can enjoy so many tulips in full bloom at the same time
Anyone entering the festival grounds and seeing the endless fields of colorful tulips unfolding before their eyes will find themselves swooning. Tulips in yellow, red, pink, white, violet, and other deep and beautiful colors difficult to describe with words have been planted densely right next to each other.

In addition, the tulips have been planted to form shapes such as butterflies, snails, or the Korean flag, which can only be made out when seen from above.
Different theme each year:
Every year there is a different theme for the festival where they will put the tulips in a display like a drawing made with flowers when you see from above

in the past years there has been themes like "The Garden of Artists." At the festival, images of well-known figures, such as Mona Lisa and Marilyn Monroe
This year in 2017 the tulip festival presents world famous landmarks like Namdaemun (National Treasure No. 1) based on a theme of Bangpai-kite as well as the Eiffel Tower from France, a windmill from The Netherlands, and a pyramid from Egypt. In particular, daffodils and lilies are newly planted in the large area as friends of tulips.
Capture the best photos :
All the displays at the festival are created with tulips and when you go in you might not feel the majesty of the tulips display but as you walk inside you will see that there are tulips of different colours in yellow, pink, red, purple that makes amazing photos!

There are also other flowers at the Taean Tulip Festival. Daffodils, lilies, pansies, lupinus and other spring flowers have been planted throughout the festival grounds, and to the east, a large field of canola flowers seems to cover the ground like a yellow carpet. To the left of the pond, located at the center of the festival, are the five-color garden, made by planting tulips of five different colors in rows, and a rest area covered by shade.

If there was ever an occasion to take photos, this festival is it! Try taking photos of iconic windmills reminiscent of the Netherlands, tulips, rabbits (the festival mascots), and even turtle sculptures

Go up the observation deck to see the panoramic view of the festival from above !
Anything to buy and eat there?
-There is also a market to buy Korean made local goods of the area and an international snack stall inside the festival
What's special at night?
There is the TAEAN LIGHT FESTIVAL?  After sunset, the whole festival will be lighted up by  LED lights that will shine a different light on the flower garden after sunset.
*picture from Taeangun official page
Admission price and operating hours
Times:  9AM- 11PM
Admission: 9000 won adults and 7000 won for children/elderly
---
What other festivals are at this location?
In the same location, The Taean Light Festival runs all year round and after the tulip festival is finished beginining of May, there will be the Taean LILY festival from July 24 to Aug 3, 2017  and Taean Autumn flowers festival from Sept 30 – Oct 10, 2017. So there is a lot to do there!
---
What else is there in Taean?  
Taean area is most famous for Taean Haean National Park, known for its clear seas, unpolluted soils, coastal flora, tidal flats, coasts, and white sand.

It includes thirty different beaches; one of these, Mallipo Beach, is considered one of the three most beautiful in Korea and is over three kilometers long.

We went to the

Mongsanpo Beach

Mongsanpo Beach is regarded as the largest beach in the East

It is famous as a beach that never ends.
MUSIC
The Korean

boy band

Big Bang

based their song, "붉은노을 ("Sunset Glow"), in honor of the caveman. The title track from their 2nd full-length Korean album, Sunset Glow, a remake of Lee Moon Sae's Red Sunset. Their Music Video for Sunset Glow is spreading the message to visit Taean beaches again after the

2007 Korea oil spill

where it had previously struck the once populated tourist attraction
Check out the music video where there is a lot of the views of Taean!
---
What to eat in Taean?
As you might expect already, Taean is near the ocean so there must be SEAFOOD!

Particularly its fresh blue crabs. Gaegukji, a hearty stew of crab and kimchi, is a local specialty. The stew is cooked with fresh crab so the soup is really tasty along with vegetables and a bowl of rice is perfect to go with it!

Another local specialty is baksok milguk nakjitang, a savory noodle soup made with small octopi. This dish isn't for the squeamish – the octopus is placed in the boiling broth very much alive and in front of the diner.
TODAY TIP:
You cannot re-enter the festival after you come out so better if you arrive around in the afternoon to enjoy the light festival at night

There are food places around the area but the restaurants right outside of the festival there are only 2 or 3 restaurants  and price can be pricier,
If you  are tired and don't want to walk around there is also a shuttle train that goes around the festival that you can take! 🙂
Go Taean and Taean tulip festival via the following EASY methods!
---
GROUP DAY SHUTTLE TOUR PACKAGE
PRIVATE CAR
---